Atlantic Division Update – Friday, March 2nd, 2012
By Josh Daniels
Mar 3rd, 2012
0 Comments
618 Views
| Place/Team | Games Played | WINS | LOSSES | OTL | Points | ROW | GF | GA | DIFF | HOME | AWAY | S/O | L10 | Streak |
| --- | --- | --- | --- | --- | --- | --- | --- | --- | --- | --- | --- | --- | --- | --- |
| 1. New York Rangers | 63 | 41 | 15 | 7 | 89 | 38 | 176 | 129 | +45 | 21-7-2 | 20-8-5 | 3-5 | 6-2-2 | OT 1 |
| 2. Pittsburgh Penguins | 63 | 37 | 21 | 5 | 79 | 29 | 202 | 166 | +36 | 20-8-2 | 17-13-3 | 8-3 | 7-2-1 | WON 4 |
| 3. Philadelphia Flyers | 63 | 35 | 21 | 7 | 77 | 33 | 209 | 191 | +18 | 15-10-5 | 21-11-2 | 2-5 | 5-5-0 | WON 1 |
| 4. New Jersey Devils | 64 | 36 | 23 | 5 | 77 | 25 | 180 | 174 | +6 | 16-12-3 | 19-11-2 | 10-3 | 5-4-1 | WON 1 |
| 5. New York Islanders | 64 | 26 | 29 | 9 | 61 | 21 | 151 | 193 | -42 | 14-14-5 | 12-15-4 | 5-3 | 3-6-1 | LOST 1 |
The standings continues to remain close from 2nd to 4th place. New York Rangers however has started to make a fair amount of distance from the others, and so does the Islanders….the wrong way. In the whole eastern conference The Rangers continues to be 1st place, followed by Pittsburgh, Philadelphia and New Jersey stretching from 4th to 6th place. Though New York Islanders continues to fall fast, they are no longer last place and The Montreal Canadians have now fallen to last place.
–Birthday Gifts: Jacob Josefson of The New Jersey Devils celebrates his 21st birthday today. His team decided to help his celebration by beating the Capitals 5-0 tonight.
–Silently Great: Patrick Elias continues to silently shine with 2 points tonight. Elias has 16 points in his last 17 games for a total of 61 points in 62 games.
– King Lundy: Lundqvist continues to be the Vezina favourite has a 7-2-1 last 10 games including 2 shutouts and only twice had over 2 GAA.
–No Cally?: Callahan missed his 1st game of the season last Thursday. He currently is 2nd for the rangers for scoring. He missed the game due to a bruised foot after blocking a puck.
–Beaming In Scotty: The Rangers decided to add some depth this deadline as they added a fighter in Scott for a 5th.
– Does Anyone Want to Shoot?: In the Devils-Rangers game on Monday the teams had a combined 28 shots total in the game (13 by the Devils, 15 by the rangers). Some say this is the least ever by the Devils.
– Faceoff Slumps: The Devils continue to lose faceoffs as they sit 29th in the league for Faceoff wins.
– Nilsson Callup: Nilsson was called up to be Nabokov's backup after Montoya received a undisclosed upper-body injury. Nilsson has been 10-0-1 in his last 11 starts for Bridgeport in the AHL.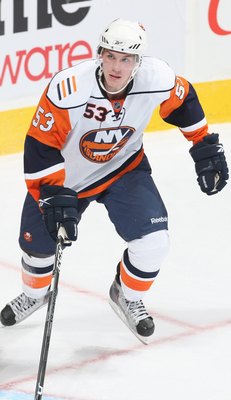 – A Good Start: Rookie Casey Cizikas of the New York Islander has 2 points in his 1st 2 games in the NHL
– 1st Boo-Boos: The Flyers have really been bad for 1st goals having the 1st goal against them in nine consecutive games; "I've got an idea: Let's put (G Sergei Bobrovsky) in for the first shot, then (G Ilya Bryzgalov) for the rest of the game."
—RW Jaromir Jagr, sarcastically talking about the Flyers' bad shots.
– Emperor Kunitz: Kunitz continues to have the best season of his career without Crosby for most of it. Kunitz now has 44 points in 63 games. Kunit's best season was 60 points in 81 games.
– Welcome to the NHL: After being called up by the Penguins, Thiessen made his first start to get a 4-2 win over the Blue Jackets.
– Welcome Back: Eric Tangradi has also been called up, but for him it's called back up. In his 4 games back he has had 1 points so far.
– Numba 500: Kimmo Timonen assisted on one of Jaromir Jagr's goals goals to get his 500th point of his career. – No Help?: After being traded to the Devils, Zidlicky has been a -4 and the Devils has lost 3 of his 4 games played with the club.
Zach Parise – Got a hatrick last game to give him 5 points in his last 4 games
Casey Cizikas – Has 2 points in his 1st 2 games, can he continue?
Marek Zidlicky – Can he finally prove his worth?
Anders Nilsson – He has been proving himself in the AHL, can he do the same in the NHL?
Chris Kunitz – Can he continue to have a career year, or slip?